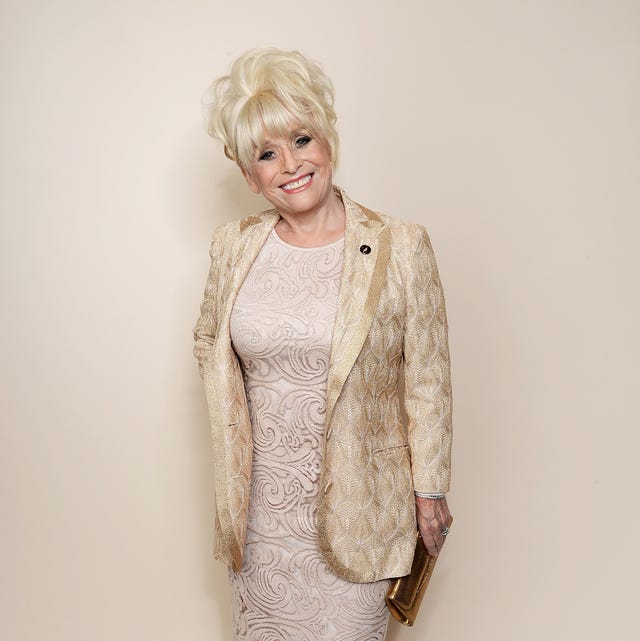 Getty Images
2021 has already seen us say farewell to some famous faces from the world of entertainment. Here, we pay tribute to stars of TV, film, music and beyond, along with the words of their friends, colleagues and loved ones – gone, but never forgotten.
1 of 10
Peter Mark Richman – Three's Company and Dynasty actor – died January 14
"My heart is broken. @OliverRichman11's grandfather and my forever father-in-law, #PeterMarkRichman passed away today. Extraordinary career in film, tv and on stage…. wonderful father and grandfather. We will miss you. We love you." – Lisa Dawn Miller
2 of 10
Sylvain Sylvain – guitarist from New York Dolls – died January 13
"Syl never stopped. In his solo lifeline, he was welcomed all over the world, from England to Japan, but most of all the rock dens of New York City, which is where I caught up with him a couple of years ago at the Bowery Electric. Still Syl. His corkscrew curls, tireless bounce, exulting in living his dream, asking the crowd to sing along, and so we will. His twin names, mirrored, becomes us. Thank you Sylvain x 2, for your heart, belief, and the way you whacked that E chord. Sleep Baby Doll." – Lenny Kaye
"RIP Sylvain Sylvain, bringing the style and swagger to the original Glam-Punk Gods #NewYorkDolls! Heroes to my Heroes… I'm gonna put on "Trash" & "Pills" & "(There's Gonna Be A) Showdown" in honor of Sylvain and the rest of the lipstick killers!" – Mike McCready
3 of 10
Jessica Campbell – actress from Freaks and Geeks and Election – died December 29
"So heart broken to hear this. Working with Jessica on Election was such a pleasure. I'm sending all my love to Jessica's family and loved ones." – Reese Witherspoon
4 of 10
Michael Apted – director of James Bond film The World is Not Enough – died January 8
"It is with very heavy hearts that we share the news of the passing of Michael Apted. He was a director of enormous talent and range and unique in his ability to move effortlessly and successfully between all genres. He was beloved by all those who worked with him. We loved working with him on The World Is Not Enough and send our love and support to his family, friends and colleagues." – Michael G. Wilson and Barbara Broccoli.
5 of 10
Deezer D – actor from ER – died December 7
"What horrible news! I am so saddened to hear of Deezer D's passing. He always greeted everyone w/ the biggest smile. I loved all the fun times w/ him on #ER. Condolences to his family & loved ones. RIP." – Ming-Na Wen
"I lost a dear friend yesterday. Deezer D, known to millions of ER fans as nurse, Malik McGrath, died yesterday morning. He was one of the most creative and charismatic men I've ever known and his gospel of positivity pulled us both up from many a dark place. I will miss him terribly. Please say a prayer for him and hold a loving thought for his family today." – Noah Wyle
6 of 10
Barbara Shelley – actress best known for Dracula: Prince of Darkness and Village of the Damned – died January 4, aged 88
"One of the greatest icons of British horror, Barbara Shelley, has passed away. She brought grace and strength to every role, from DRACULA PRINCE OF DARKNESS and THE GORGON, to VILLAGE OF THE DAMNED. Truly a great loss." – Axelle Carolyn
"So very sad to hear of the passing of #BarbaraShelley. A darling person and a talented actress. When we worked together on Planet of Fire she was so kind to me. She gave me a little owl, still in my possession and some good advice. #RIPBarbaraShelley Wise and wonderful lady." – Nicola Bryant
7 of 10
Alexi Laiho – Children of Bodom and Bodom After Midnight musician – died, aged 41
"It is with heavy hearts and great sadness that we have to announce the passing of Alexi Laiho. We are absolutely devastated and heartbroken for the sudden loss of our dear friend and band member. Daniel, Mitja & Waltteri." – Bodom After Midnight
"Alexi was the most loving and magnificent husband and father. Our hearts are eternally broken." – wife Kelli Wright-Laiho
8 of 10
Gerry Marsden – singer best known for Liverpool FC anthem 'You'll Never Walk Alone' – died January 3, aged 78
"Gerry was a mate from our early days in Liverpool. He and his group were our biggest rivals on the local scene. His unforgettable performances of 'You'll Never Walk Alone' and 'Ferry Cross the Mersey' remain in many people's hearts as reminders of a joyful time in British music… My sympathies go to his wife Pauline and family. See ya, Gerry. I'll always remember you with a smile." – Sir Paul McCartney
"It is with such great sadness that we hear of Gerry Marsden's passing. Gerry's words will live on forever with us. You'll Never Walk Alone." – Liverpool FC
"I first met Gerry Marsden in 1992 when he came to show support for a charity cycle ride I did. He was always a gentleman and kind with his talent and his time. He leaves a brilliant catalogue of songs and an anthem that will outlive us all . RIP Gerry YNWA." – John Bishop
"Devastated to hear of the passing of Gerry Marsden earlier today. The word legend is often overused but Gerry was not only a legend, but also a very good friend of The Cavern." – The Cavern Club
9 of 10
George Gerdes – actor best known for X Flies and Grey's Anatomy – died January 1, aged 72
"My dear old friend George Gerdes passed away last night. He was a wonderful songwriter, poet, and actor, much beloved by everyone who knew him. You would have liked him, too. RIP, GG, from the old red lobster." – Michael McKean
10 of 10
Mark Eden – Coronation Street and Doctor Who star – died January 1, aged 92
"I loved this man so much. Thank you for being the most wonderful TV Dad, teacher and friend. DLP always Xxx." – Sally Ann Matthews
"We are all hugely saddened to hear that Mark Eden passed away peacefully, in hospital, earlier today. Our love and thoughts go out to Sue and their family and friends at this time." – Coronation Street
"We're sad to report the death of Mark Eden, who starred in Doctor Who's fourth ever story, 'Marco Polo'." – Doctor Who
"Very sad to hear that Mark Eden has passed away. A joy to cast him in 'An Adventure in Space and Time' and he spoke so fondly of 'Marco Polo'. He also came to see 'The Boys in the Band' in Manchester with his lovely wife Sue Nicholls. A gentleman and a very fine actor. RIP." – Mark Gatiss
Shyvonne Thomas
Shyvonne Thomas is Picture & Multimedia Editor at Digital Spy.
This content is created and maintained by a third party, and imported onto this page to help users provide their email addresses. You may be able to find more information about this and similar content at piano.io
post comes from: https://www.google.com/alerts/feeds/06826723516548187620/10747720445221330788

Post was first posted at: https://www.google.com/url?rct=j&sa=t&url=https://www.digitalspy.com/showbiz/g35115106/celebrity-deaths-tributes-2021-stars-died-in-memoriam/&ct=ga&cd=CAIyHDA1OTI4ZmFhZTEzZjQwNjU6Y29tOmVuOlVTOlI&usg=AFQjCNGkB89BISO-gVQhBf6SM_6hEn6LUg