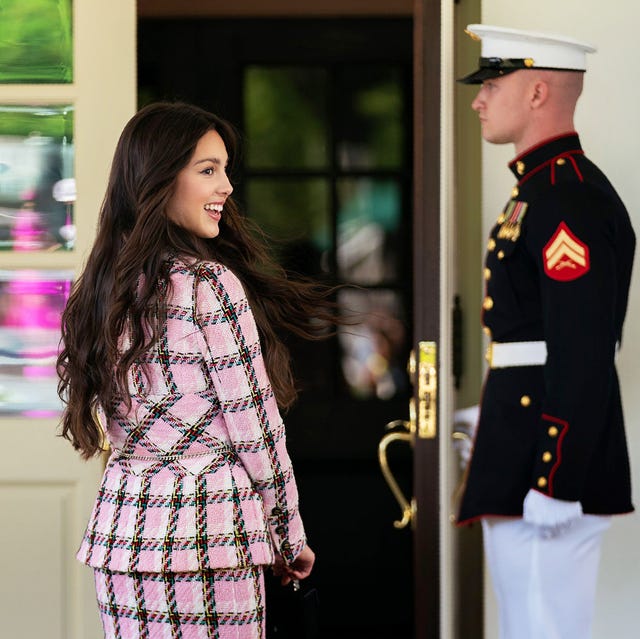 Manuel Balce Ceneta/AP/Shutterstock
What do the outfits celebrities wear to meet country leaders mean? What message do these outfits send? Well, if planning a first-day-of-school outfit was hard imagine planning an outfit to meet one of the most powerful people in the entire world. These outfits signal so much more than a photo op. In fact, many of these outfits become relics of history. The outfits that different It-girls have worn to meet country leaders remind us of specific fights celebrities have taken up, or of scandals they have partaken in. But, maybe even of more importance is that these outfits act as a reminder for just how influential and powerful outfits are; they are surely more than material goods.
With that, check out the best outfits that celebrities have worn to meet different country leaders.

1 of 19
Audrey Hepburn
Almost a century old, this photo is a reminder about the iconic qualities behind the outfits that celebrities wear to The White House. Though only wearing a simple button-up shirt, Hepburn's fit shows just how far women's fashion has come, especially when meeting important figures. While a crop-top would have been out of the question during this era, showing some skin is now deemed as business casual.
2 of 19
Barbara Streisand
Isn't it hard to believe that this photo was taken just a little over thirty years later than Audrey Hepburn's? Adorned in a feather boa and sporting a quintessential bob style haircut, Streisand's fit marks a time when the entertainment industry and American politics began a long standing relationship. Likely the first feather boa to make its way into The White House, Streisand's fun fit captures the eyes of the American people and helps them to care about their country's affairs.
3 of 19
Marilyn Monroe
When else has The White House been this sexy? Probably the first sequin dress to walk into the Executive Branch, Monroe's fit was worn when she sang "Happy Birthday" for President Kennedy's 45th Birthday. Known as the only photo to exist of Kennedy and Monroe, her sequin dress is a tangible relic of a past President's promiscuous scandal.
4 of 19
Christie Brinkley, Cheryl Tiegs, and Brooke Shields
Posing for Bob Hope's 80th birthday at the Kennedy Center in 1983, Brinkley, Tiegs, and Shields were decked out in their finest evening attire. Simple, yet sexy and classy; would we expect anything less from these supermodels?
5 of 19
Whitney Houston
Houston was dressed to impress during her private White House tour. Sporting a statement white suit, Houston's outfit surely helped her garner respect from President George H. W. Bush. And if her white suit wasn't enough of a statement to wear to The White House, have no fear, Houston also accessorized with a patterned scarf and sheer tights – a sure fire way to capture the eyes of many and be recognized as an American icon.
6 of 19
Sarah Jessica Parker
One of the most influential fashion icons of the '90s, Sarah Jessica Parker, was pictured with President Clinton shortly after she began her role as Carrie Bradshaw on Sex and The City. And, much like her alter ego, SJP was dressed to the nines. in the most effortless way. Bohemian, yet chic, classy, yet cool, Parker is another celebrity who helped fashionably secure the bond between the White House and the entertainment industry.
7 of 19
Mandy Moore
How do you say Y2K without saying y2k? This photo answers that question. Our lady in red was festive for the "Christmas in Washington" spectacular. Nostalgic as ever, this photo is a reminder of how y2k fashion is always a crowd pleaser.
8 of 19
Jennifer Lopez
When is Jlo not a style icon? Never. Jlo stands tall and fashionable next to former First Lady Michelle Obama. Sporting a one-shoulder sequin white gown, this photo is the epitome of fashion nostalgia.
9 of 19
Katy Perry
If there ever was a more fashion focussed photo, this is it. Likely, commenting on her patterned heels, Obama can't help but be amazed with Perry's get up. In clear awe of her dress and shoes, Obama clearly saw the importance of acknowledging fashion at The White House.
10 of 19
Meryl Streep
Another moment where a lady in red dazzles. Just like her acting, Streep's dress is effortlessly beautiful. Receiving a medal of freedom for her acting skills, Streep's photo op also shows how she is a fashion icon in her own way. She does not dress for anyone but herself.
11 of 19
Julie Bowen and Sofia Vergara
Cracking up at something, Bowen and Vergara's dresses are not only beautiful and flattering, but their fits show respect for the President. Bowen and Vergara are even out-dressing former President Obama with their fanciful fits.
12 of 19
Kelly Clarkson
Perhaps fall time, Clarkson is serving major Fall looks with her purple scarf and rust colored pea coat. Simple and timeless, Clarskon reminds wearers that sometimes all a good outfit needs is one long jacket.
13 of 19
Amal Clooney
As a Human Rights Lawyer who doubles as none other than the wife of George Clooney, Amal Clooney is no stranger for how to dress to impress. While there is nothing exactly jaw dropping about a simple nude sweater paired with a long black skirt, the timeless qualities are what stand out. Easily catapulted to night attire, Clooney could have easily enhanced her fit with a statement necklace and be all set for a dinner party or night on the town.
14 of 19
Emma Watson
Perhaps the antithesis of Bieber's outfit, Watson wore a classic black pantsuit when she met with Canadian Prime Minister Justin Trudeau. As a champion for gender equality, Watson's simple suit demonstrates that women do not only need to wear skirts or dresses to garner respect or make a statement.
15 of 19
Kim Kardashian
Kim Kardashian dressed like she "meant business" when she met with former President Trump. Decked out in black, Kardashian's dress shows that she wants to get stuff done.
16 of 19
Lady Gaga
Adorned in a jaw-dropping Schiaparelli dress, Gaga's voice was not the only thing making a statement at the 59th presidential inauguration. She played a key role in helping fashion be on display during the inauguration. Her outfit will be remembered for its eye catching qualities, but more than that her outfit signals a time when America was entering a new-normal.
17 of 19
Hailey Bieber
Decked out in an ab-flaunting nude-colored LaQuan Smith dress and strappy stilettos, Bieber took business casual to the next level when she met with French President Emmanuel Macron. While some might bat an eye, Bieber's outfit is a powerful declaration that no outfit is ever too much. All that matters is that the wearer feels comfortable in their clothes, and respect will follow.
18 of 19
Queen Elizabeth
Longstanding fashion icon, Queen Elizabeth, dazzled President Biden with her patterned pink attire. Only royalty could pull off a fit like hers and outdo the President of The United States.
19 of 19
Olivia Rodrigo
Who better to showcase all that a killer outfit can do than Olivia Rodrigo? Adorned in a vintage 1995 Chanel suit that is older than our Gen Z starlet, Rodrigo's outfit acts as a mechanism to garner respect when she showed up at The White House to encourage her fans to get vaccinated for COVID-19. Her vintage fit reminds wearers of the transformative power exuded in clothing. Her Chanel Suit is also quite reminiscent to the preppy-school fits worn in Gen Z staple shows like Gossip Girl.
post comes from: https://www.google.com/alerts/feeds/06826723516548187620/10747720445221330788

Post was first posted at: https://www.google.com/url?rct=j&sa=t&url=https://www.crfashionbook.com/culture/g37094017/outfits-celebrities-have-worn-to-meet-country-leaders/&ct=ga&cd=CAIyHDA1OTI4ZmFhZTEzZjQwNjU6Y29tOmVuOlVTOlI&usg=AFQjCNGzRl7y9XqUP7n24uiXkL0CqFVhDg