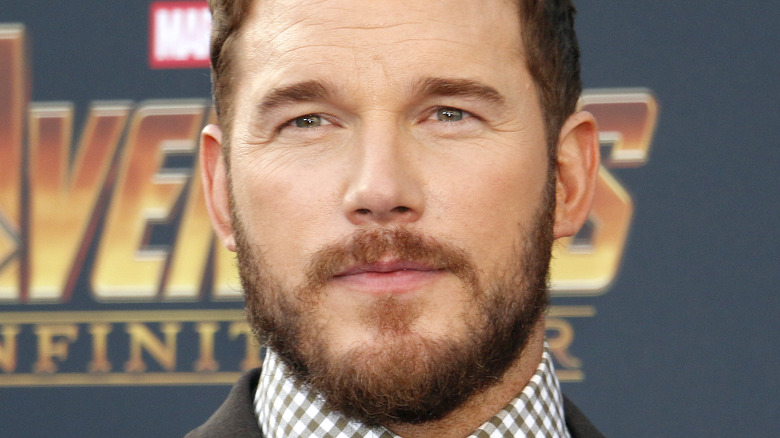 Tinseltown/Shutterstock
The megachurch is a cultural and spiritual phenomenon that has changed the way millions of people celebrate their faith. Each Sunday, adherents pack arena-size buildings for showy, splashy, energetic multimedia extravaganzas of a religious nature, a modern and more technologically sophisticated version of old-fashioned big tent revival shows. It's not just an American thing, either. One of the biggest megachurch organizations, with branches in several major U.S. cities, is Hillsong Church. The church began in Australia in the early 1980s and now touts more than a hundred thousand members.
Especially drawn to Hillsong: famous people, be they actors, musicians, professional athletes, or reality TV stars. Services at the church's New York and Los Angeles outposts are often full up with celebrities, which was an unofficial aim of the operation. "Celebrities deserve a place to pray," former Hillsong pastor Carl Lentz told GQ. Lentz personally brought quite a few A-listers to his church. Here are some of the big-time famous people associated with Hillsong Church.
Justin Bieber was very close with a prominent Hillsong pastor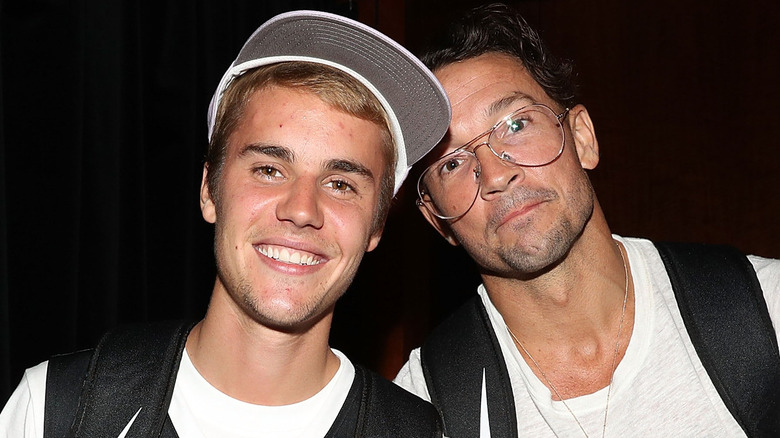 Shareif Ziyadat/Getty Images
In the early 2010s, according to GQ, pop sensation and enduring teen idol Justin Bieber found himself buckling under the pressures of fame. He sought help from Judah Smith, a pastor at the Seattle megachurch Churchome, who steered the young star to his best friend, Carl Lentz, head pastor of Hillsong Church's New York City branch, an organization used to handling celebrities discreetly and with care. Lentz baptized Bieber, Bieber joined Lentz' church, and the pair were often seen together in public for the better part of a decade, with Lentz serving as Bieber's personal spiritual advisor when he wasn't leading services at Hillsong NYC (where Bieber often worshiped, according to The Cut).
Bieber brought several love interests with him to Hillsong and into the inner circle of the church, including Hailey Baldwin, whom he'd marry in 2018, according to Brides. Both Bieber and Baldwin left Hillsong in 2020, according to Vanity Fair. After both unfollowed Lentz on Instagram amidst the unfolding scandal that would lead to his dismissal from Hillsong (via People), Bieber announced via Instagram Stories that he no longer was part of Hillsong and had joined Churchome.
Vanessa Hudgens speaks highly of Hillsong Church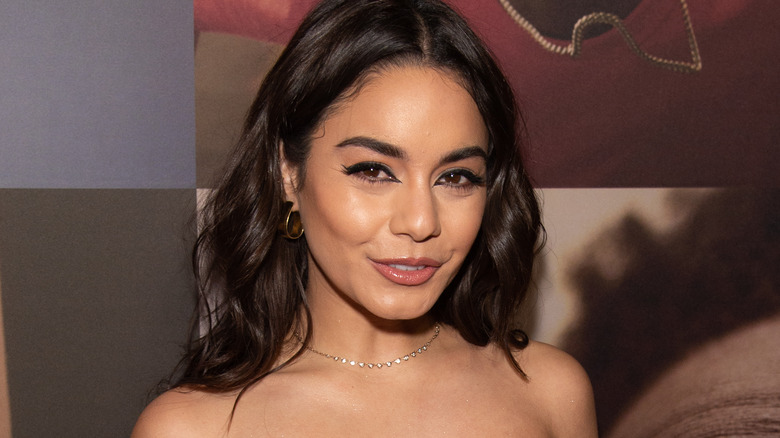 Ron Adar/Shutterstock
Vanessa Hudgens is a Zoomer icon, coming to fame, prominence, and influence in 2006 as the star of the Disney Channel's "High School Musical," a ratings phenomenon that spawned a blockbuster soundtrack (featuring Hudgens' belting), two sequels, and a heavily monitored if ill-fated relationship with her co-star and romantic foil, Zac Efron.
According to the New York Times, Hudgens was raised with religion, born into a Roman Catholic family, a faith to which she says she "never felt very connected." Instead, Hudgens said in 2015, her boyfriend at the time, actor Austin Butler, helped reacquaint the actor with her faith, as did attending services at Hillsong Church, specifically at its Los Angeles branch. "It feels like Arcade Fire — it's epic like that," Hudgens said of the congregation's multimedia extravaganza-like services with lights, video screens, and loud rock music, adding that she appreciates the non-denominational church's approach to faith, encouraging adherents to form a "personal relationship" with a higher power.
Hailee Steinfeld reportedly attends Hillsong services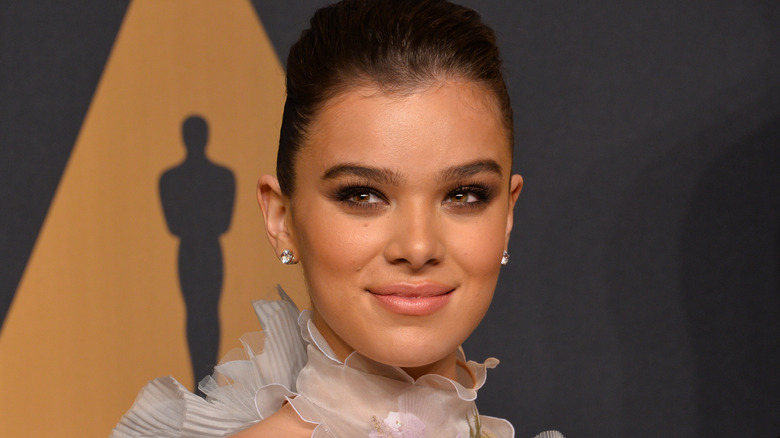 Featureflash Photo Agency/Shutterstock
Around 2017, Justin Bieber was so solidly linked to Hillsong Church, with pastor Carl Lentz firmly entrenched in the singer's entourage as a personal spiritual advisor and close friend, that any young and famous woman seen with him in a worship or faith capacity was assumed to be a romantic interest. In May 2017, TMZ reported that Hailee Steinfeld, at the time best known for her Oscar-nominated role in "True Grit," as well as "Pitch Perfect 2" and "The Edge of Seventeen," was the newest lady in Bieber's life, as the pair had been dating for around a month, according to a well-placed source. TMZ attested that Lentz introduced Steinfeld to Bieber, as they were both congregants of Hillsong Church. Steinfeld's representative later clarified that the actor and singer were merely friends who shared the same religious views and Sunday standing plans to attend services at the 100,000-member megachurch association.
Kyrie Irving switched teams after consulting with a Hillsong pastor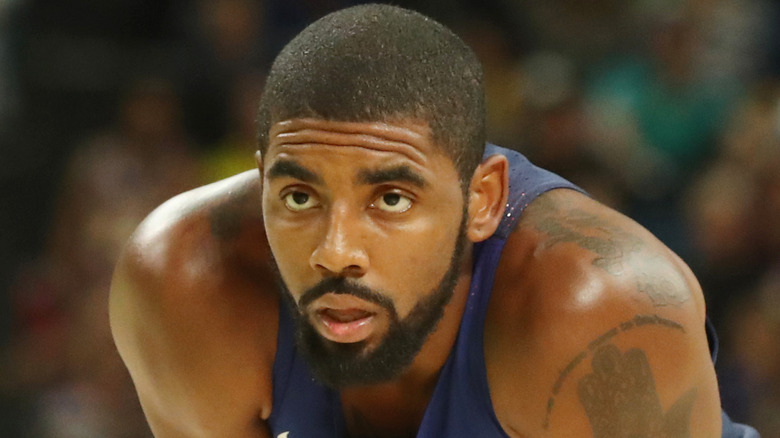 Leonard Zhukovsky/Shutterstock
In 2017, a season removed from winning an NBA championship with the Cleveland Cavaliers, according to TMZ, superstar Kyrie Irving requested a trade to a team where he would be the most dominant player, no longer viewed as the second-best option after teammate LeBron James. Irving's decision reportedly came about after multiple, extensive, heart-to-heart conversations with his close associate and pastor, Carl Lentz of Hillsong Church, of which the player had been an active congregant for a while. Irving was so tight with Lentz before the latter was dismissed from Hillsong in 2020 after admitting to adultery (per the New York Post) that the two were seen in public together, along with fellow Hillsong alum Justin Bieber, hanging out at a Dave and Buster's. A few months later, with Lentz encouraging Irving to make whatever decision he thought best, Irving approved a trade. According to ESPN, the Cavaliers sent Irving to the Boston Celtics in exchange for three players and future draft picks.
Tyson Chandler helped bring Justin Bieber into Hillsong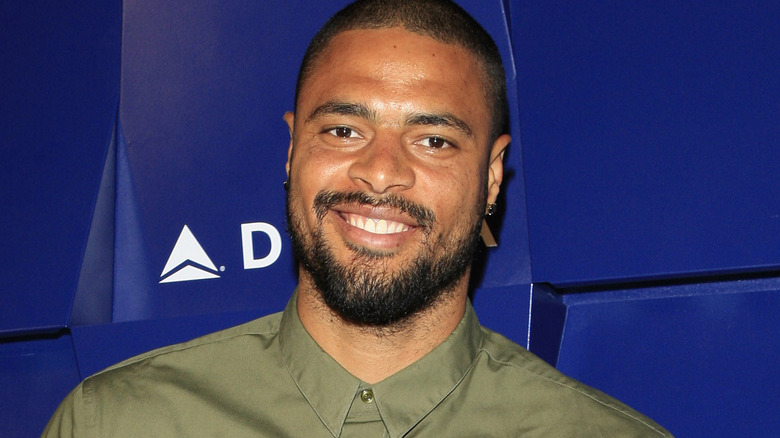 Joe Seer/Shutterstock
During a low personal moment in 2014, according to Vox, Justin Bieber asked Hillsong Church Pastor Carl Lentz to be baptized, at that very moment. It was the middle of the night, and they drove to the New York City hotel with the swimming pool that Hillsong generally uses for full-immersion baptisms, but the news of Bieber's arrival had leaked, so it was swarming with fans and tabloid reporters. "So I called my boy," Lentz told GQ, referring to NBA All-star and Defensive Player of the Year Tyson Chandler, at the time a member of the New York Knicks roster. A Hillsong member and close contact of Lentz for a long time, he allowed the pastor and Bieber to use not the pool of his luxurious complex, but the custom-built extra-large bathtub he'd had installed to accommodate his 7-foot-tall frame.
According to Pedestrian.TV, Chandler was very active in the church, heading to Australia, Hillsong's nation of origin in 2017, to attend to church business, such as participating in the stadium-filling Hillsong Conference in Sydney.
Various Kardashians hit Hillsong events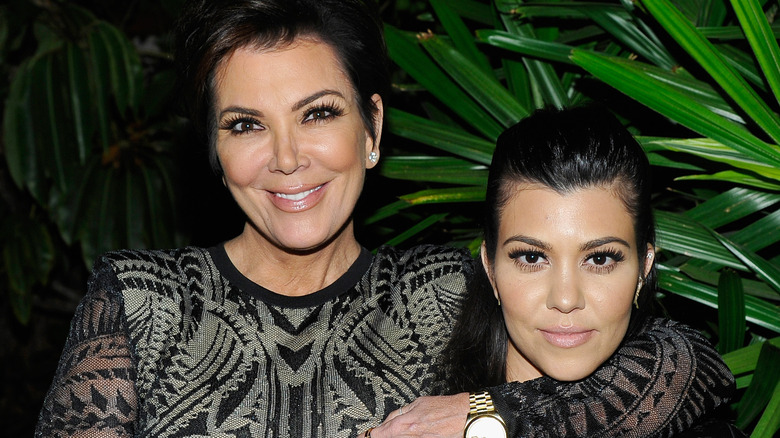 John Sciulli/Getty Images
Various members of the large and media dominating Kardashian-Jenner family have ties in some way or another to Hillsong. In 2018, People reported that eldest daughter Kourtney Kardashian was seen leaving a Wednesday evening Hillsong Church service in Los Angeles with her then-boyfriend, actor Luka Sabbat. The officiant of Kim Kardashian's wedding 2014 wedding to rapper Kanye West was a Miami-based pastor named Rich Wilkerson, who has given sermons at Hillsong Church.
In 2019, per The Mirror, West, along with Kourtney Kardashian and her half-sister Kendall Jenner, took in a Hillsong midweek worship event in Beverly Hills, right around the time that the rapper started his Hillsong-esque "Sunday Service" concerts. Additionally, Kendall was seen at a Hillsong service in New York City back in 2014, attending with Justin Bieber, Selena Gomez, and Hailey Baldwin, according to HollywoodLife.
Kardashian matriarch and media mastermind Kris Jenner also considers herself a religious person, and while she helped found the California Community Church (according to The Guardian), one so exclusive that it charges a $1,000 monthly membership fee, she actually attends services at Hillsong, according to CheatSheet.
Chris Pratt gives Hillsong a lot of credit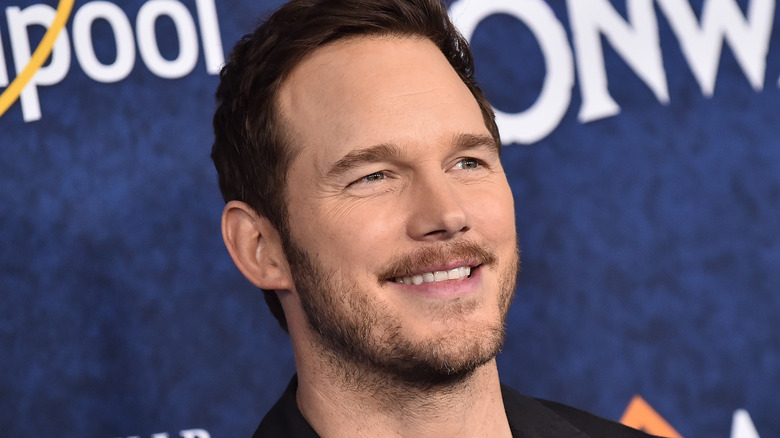 DFree/Shutterstock
Since his scene-stealing work as dim bulb Andy Dwyer on "Parks and Recreation," Pratt became an A-list action star with roles in the "Jurassic World" and "Guardians of the Galaxy" franchises. He had to maintain a fit, lean, muscular shape for those films, and he credits his physical transformation in part to the Daniel Fast, a biblically-inspired, 21-day diet plan. "I did it with my pastor," Pratt said on "The Late Show with Stephen Colbert" of the plan, which bars consumption of meat, sugar, and alcohol.
According to USA Today, the pastor of which Pratt spoke is Chad Veach, a former Hillsong minister who moved on to preside over Zoe Church, a Hillsong-affiliated place of worship. Pratt regularly attends service there, along with fiancee-now-wife Katherine Schwarzenegger. In an Instagram story (via People), Pratt credited his church with helping him through his painful split from first wife, Anna Faris. "My church community was there for me every step of the way, never judging, just gracefully accompanying me on my walk," he said.
Kevin Durant joined Hillsong Church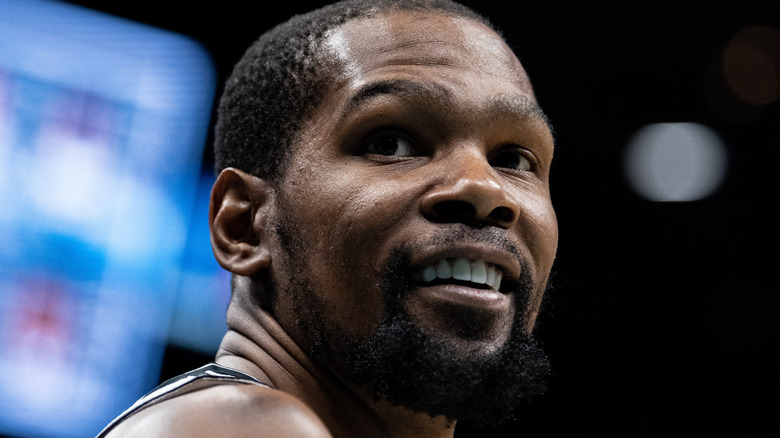 Jacob Kupferman/Getty Images
Kevin Durant is one of the greatest basketball players on the planet: a 12-time NBA all-star, with two league titles, an MVP award, and Rookie of the Year accolades to his name. He's also a steadfast man of God. Early in his career, according to Christian Post, Durant discussed his faith with reporters and said he carried a Bible with him to games. According to GQ, he hated his nickname, Slim Reaper, because it sounded ominously wicked. 
Raised in a Christian home, he credits the personal spiritual coaching of Hillsong Church pastor Carl Lentz with changing his outlook on faith. Durant allowed Lentz to baptize him into the Hillsong fold, and in June 2013, he spoke at the megachurch's Manhattan branch's Sunday service. "I thought you were weird first of all," Durant said of Lentz. "Where I come from pastors are always in nice suits but you dress like me. I really appreciate it." Lentz was with him when he signed his sports management contract with Jay-Z's company, Roc Nation Sports.
Selena Gomez used to be a part of Hillsong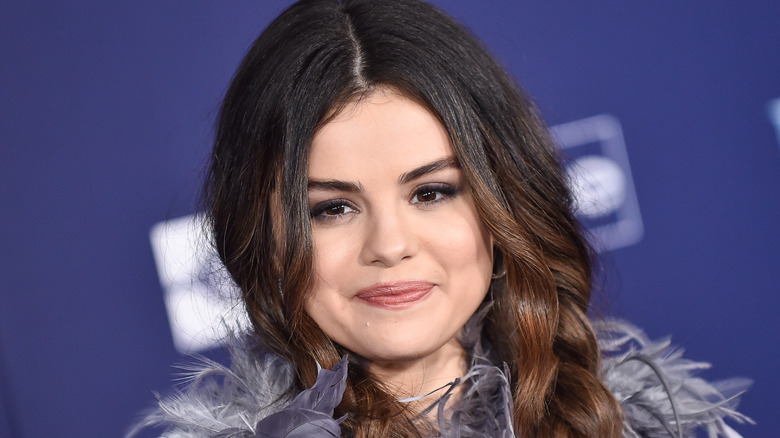 DFree/Shutterstock
According to Vanity Fair, former Disney Channel child star and teen pop star turned "Only Murders in the Building" star and sultry diva Selena Gomez was once among the Hillsong Church flock. She often attended services and worked songs made famous by Hillsong's musical branches into her repertoire. In 2016, per Spin, Gomez sang Hillsong Worship's Christian pop tune "Transfiguration" at a Miami concert in tribute to her murdered friend, "The Voice" breakout Christina Grimmie.
In 2020, according to Australia's Daily Telegraph, celebrity pastor Carl Lentz was relieved of his pastor position at Hillsong after reports of his marital infidelity came to light. Shortly thereafter, and reportedly in part because of Lentz's behavior, Gomez left Hillsong Church. According to sources close to the actor/singer, Gomez had started to question the church and drift away from it, growing "bitterly disillusioned" after the end of her tumultuous, off-and-on, 7-year relationship with fellow Hillsong congregant Justin Bieber. The source claimed Gomez was very close with Lentz, his wife and Hillsong employee Laura Lentz, and church founder Brian Houston.
Scott Morrison was affiliated with Hillsong before becoming Australia's prime minister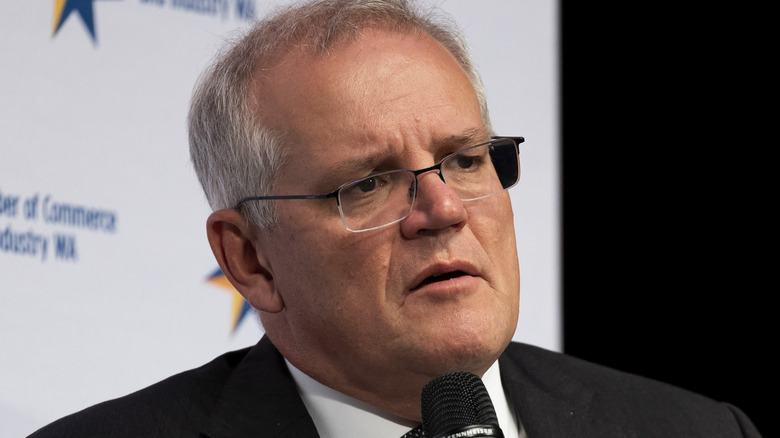 Matt Jelonek/Getty Images
Hillsong Church was started as a single small church in Sydney, Australia in 1983 by founders Brian Houston and Bobbie Houston. Flash forward to the 2000s, and one of the country's most notable and powerful citizens is strongly connected to the church that grew into a very well-attended and influential religious organization.
In the mid-2000s, Australian politician Scott Morrison, who identifies as a deeply religious person, said he felt a calling from a higher power to become prime minister of his country, and he was willing to move to a new city in order to win an open seat in parliament to get close to his goal. All of this was revealed in a video intended for a conservative Christian audience, reported Crikey, made by Hillsong Church pastor Joel A'Bell and his spouse, Julia Bell. "We've known Scott and Jenny [Morrison] for about 15 years," Joel A'Bell said. "They were in our church as part of our congregation for years before he was prime minister."
When Morrison became Australia's prime minister in 2008, his inaugural address to Parliament mentioned Hillsong co-founder and pastor Brian Houston by name, according to The Big Smoke. Morrison holds the Hillsong higher-up in such high personal and professional esteem that he tried to bring Houston to Washington, D.C. as his guest to a White House state dinner, according to the AFR.
post comes from: https://www.google.com/alerts/feeds/06826723516548187620/10747720445221330788

Post was first posted at: https://www.google.com/url?rct=j&sa=t&url=https://www.grunge.com/804264/celebrities-whove-gone-to-hillsong-church/&ct=ga&cd=CAIyHDA1OTI4ZmFhZTEzZjQwNjU6Y29tOmVuOlVTOlI&usg=AFQjCNFhTSKXk5Btww0Pl34qpcRzGhKxOQ