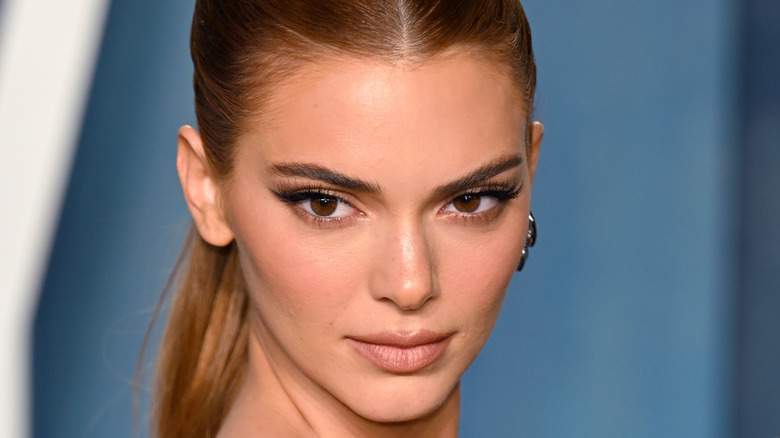 Karwai Tang/Getty Images
Matt Damon met his wife Luciana Barroso while she was working as a bartender, Patrick Dempsey married his hair stylist Jillian Fink, and fans went into a craze when they saw Zac Efron dating Vanessa Valladares, who happened to work at a cafe in Australia. These few romances made fans believe that celebs don't always date celebs, and that love can truly be found just about anywhere and with anyone.
While it's touching to hear stories about celebrities dating "regular" people, it doesn't often happen, and it's more common to see an A-list star dating or marrying someone with the same fame and status as themselves. That's why celebrities might go a different route and date professional athletes. These couples have a lot more in common than making a combined mega-fortune, including knowing a thing or two about hard work, how to handle being in the spotlight, and are pros at maintaining long-distance relationships. 
The stars below might be known for their work in film, TV, music, or modeling, but they are also known for dating a slew of athletes. Do these celebs have a type? It certainly seems that way with the men that have come into their lives. Check out which of Hollywood's biggest stars love dating professional athletes. 
Olivia Culpo dated three NFL players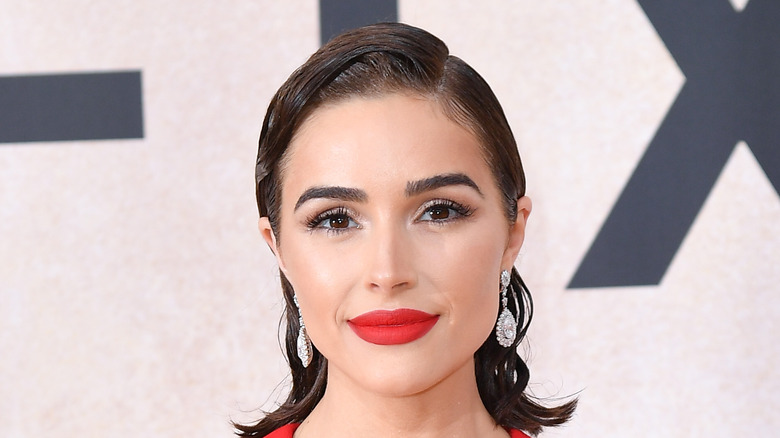 Jacopo M. Raule/Getty Images
Olivia Culpo is a social media personality who held the title of Miss Universe in 2012. Since then, she's been making headlines for the men that have come into her life, most notably Nick Jonas of the Jonas Brothers, whom she dated from 2013 to 2015. However, Culpo moved on from dating pretty boy popstars to dating a few NFL players. 
In 2015, the influencer was rumored to be dating former NFL player Tim Tebow. According to The Sun, the couple dated for about two months after splitting in November, with a report by the Daily News that claimed that the brunette beauty ended things because Tebow vowed to stay a virgin until marriage. A year later, Culpo found love with former Detroit Lions wide receiver Danny Amendola, but the former couple were on-again, off-again until finally calling it quits around April 2019, per Boston. After the split, Amendola blasted Culpo on Instagram and shared that the beauty queen enjoyed living a "fishbowl lifestyle" while he chose to live life privately. He shared (via The Sun), "This fundamental difference was huge in our relationship."
By the summer of 2019, Culpo was already moving on from Amendola to another NFL player. According to People, the model was first seen spending time with Carolina Panthers running back Christian McCaffrey in Mexico in July, and as of this writing, the two are still an item. In June 2022, Culpo shared a touching post celebrating her man's birthday. She wrote, "I love you so much Christian. You are the most dependable, inspiring, thoughtful + grounding person and I feel so lucky to call you mine."
Jordyn Woods and Kendall Jenner have more in common than you think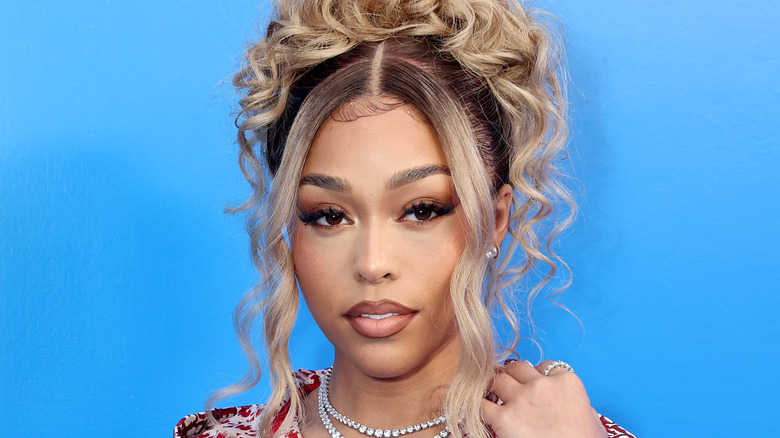 Matt Winkelmeyer/Getty Images
Jordyn Woods might be known as Kylie Jenner's ex-best friend, but she's also made headlines for the famous faces she has dated. As of this writing, the model is dating Minnesota Timberwolves player Karl-Anthony Towns and the two have been together since she confirmed their relationship in September 2020. 
Woods posted a series of vacation photos with Towns on Instagram while celebrating her 23rd birthday. Her post read, "I found you, then I found me." Talking about her new romance, she told Extra, "We have been friends for a long time. Naturally, we both connected about losing a parent at a very young age … So, it was a very organic relationship that we'd been best friends for awhile." Before her relationship with Towns, fans have found out that Woods had dated NBA player Devin Booker, who is in a relationship with Kendall Jenner. 
TMZ spotted Woods and Booker out on a double date with Jenner and her then-boyfriend NBA player Ben Simmons in May 2018. However, The U.S. Sun reported that Woods and Booker never confirmed or denied they were dating at the time with no word when they called it quits. Besides having dated Booker, Woods was also linked to NBA player Tristan Thompson. In February 2019, she and the basketball player were caught in a scandal when they reportedly shared a kiss. Thompson is the father of Khloe Kardashain's daughter, True, and the couple was dating at the time. Woods' brief encounter with Thompson ended her relationship with BFF Kylie Jenner and the rest of the KarJenner family. 
Kim Kardashian had a few serious relationships with athletes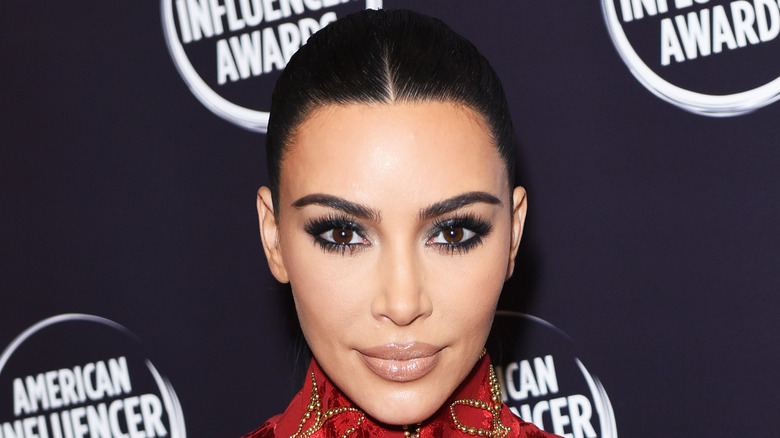 Presley Ann/Getty Images
Kim Kardashian might have fallen head over heels for funny man Pete Davidson, but there was a time in her life when the reality star dated many famous athletes. Her most notable ex-boyfriend was former NFL running back Reggie Bush, whom she dated from 2007 to 2010. According to Daily Mail, the couple had split in August of 2009, but reconciled, until eventually falling out in March 2010 with reports that fame might have driven them apart. 
There appeared to be no love lost with Bush, who told ESPN, "When I started dating my ex, that's when all this [media attention] came … The gossip magazines and all the other stuff, the ugly side of it … But you know what, I wouldn't change anything because it helped mold and shape who I am today and I'm a better man for it." The same year of their split, Kardashian was already being linked to another NFL player. This time it was Miles Austin, whom she dated briefly from June to September, per Life & Style. According to People, their busy work schedules caused the split.
Kardashian had a whirlwind romance with NBA player Kris Humphries in 2010, with the athlete popping the question in May 2011, and the two tying the knot in August 2011, which was later broadcast on an E! special entitled, "Kim's Fairytale Wedding." However, Kardashian filed for divorce after just 72 days of marriage and the pair's divorce was finalized in June 2013. The reality star went on to marry Kanye West in May 2014, but they divorced in March of 2022. 
Khloe Kardashian has dated a slew of sports stars
Stefanie Keenan/Getty Images
Khloe Kardashian found herself in a whirlwind romance with Chicago Bulls player Tristan Thompson. She gave birth to their daughter True in 2018, but their relationship included many cheating scandals on Thompson's part that ultimately had the reality star calling it quits. In the debut episode of Hulu's "The Kardashians," she stated (via Us Weekly), "Right now, Tristan and I are just friends. I love the relationship that he and I have but my biggest focus is being a mom to my beautiful angel True."
Before Kardashian found herself with Thompson, she had previously dated several athletes and was even married to one famous NBA player. According to Us Weekly, the reality star dated NBA player Rashad McCants and NFL player Derrick Ward in 2009, and that same year, found love with former Los Angeles Lakers player Lamar Odom. The couple wed just after one month of dating in September 2009, but went their separate ways in 2013. However, when Odom was found unconscious after overdosing at a Nevada brothel, the Good American founder put the divorce proceedings on hold to be by his side. The pair finalized their divorce in 2016.
Us Weekly also reported that Kardashian was also rumored to have once dated baseball player Matt Kemp after her first initial divorce from Odom. She also had a short romance with retired NBA player Rick Fox in 2015, and dated NBA player James Harden from June 2015 to February 2016. 
Kate Upton settled down with a top MLB star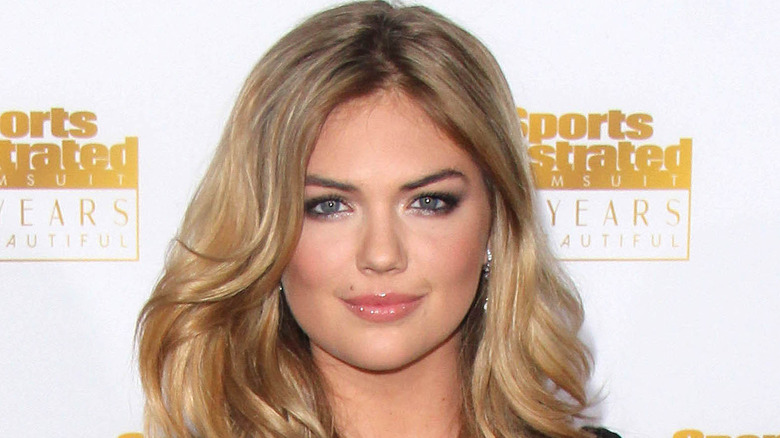 Kathy Hutchins/Shutterstock
All eyes were on Kate Upton when she graced Sports Illustrated's Swimsuit Edition in 2011 at the age of 18. While she was making a name for herself in the modeling world and teaching people how to do the Dougie, her love life was also on display. Since the start of her career, she has been linked to a few athletes.
In 2011, the Daily Mail reported that she was dating former New York Jets quarterback Mark Sanchez. The blonde beauty was reportedly seen attending Jets games and the pair had been seen together at Upton's New York City apartment. However, neither Upton nor Sanchez ever confirmed or denied a relationship. According to Us Weekly, in January 2013, Upton and Houston Astros pitcher Justin Verlander made their relationship official, but split that same year with E! News reporting that in June, she was seen getting "very cozy" with NBA player Blake Griffin. There's no word on how long her relationship with Griffin lasted, but she eventually reunited with Verlander in 2014, and the couple tied the knot in November 2017. They welcomed a daughter named Genevieve in November 2018. 
Gabrielle Union was married to an NFL player before tying the knot with Dwyane Wade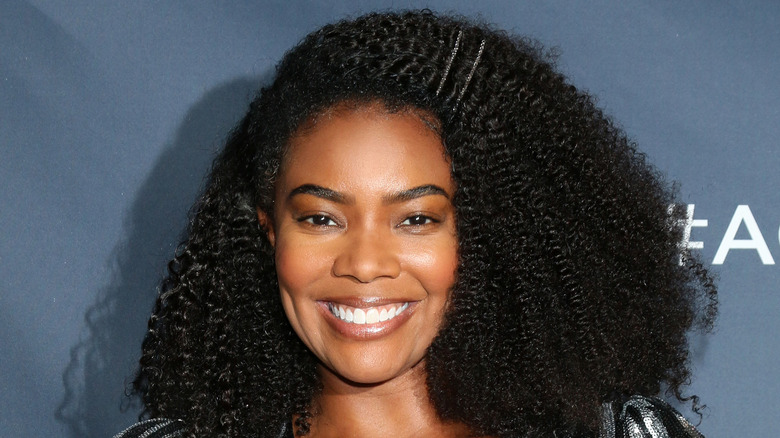 Kathy Hutchins/Shutterstock
Before marrying former NBA player Dwyane Wade, actor Gabrielle Union was previously married to Chris Howard, a former NFL running back from 2001 to 2006. However, she revealed in her memoir "We're Going to Need More Wine," that marrying the athlete was not the fairytale romance she imagined. 
In an excerpt from her book (via The Sports Rush), Union described how a day after he had proposed, she found out that he might have been having an affair. "And I was like so you were gonna propose marriage, but in case I said no, you had a lovely woman from Greece, apparently en route to Jacksonville. Okay, we're off to a great start. It should have been a red flag." According to the Daily Mail, the couple eventually divorced after Howard cheated on the star. Talking about her divorce Union shared (via AALBC), "I sort of realized that I hadn't been making sound choices which were the best for me to pursue my hopes and dreams and aspirations and passions."
After her first marriage, Union went on to briefly date NFL player Darren Sharper in 2006, although there are no reports as to why the duo split. Union eventually wed Wade in 2014 and the couple welcomed a daughter, Kaavia, via surrogate in 2018, per People. 
Carrie Underwood and Tony Romo were once an item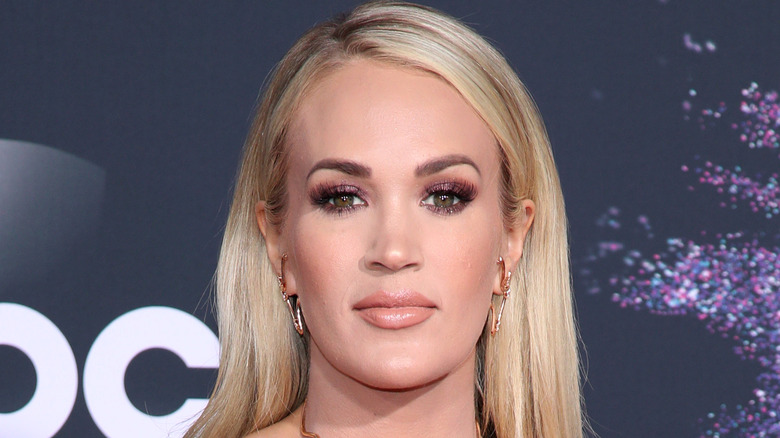 Rich Fury/Getty Images
Before former Dallas Cowboys quarterback Tony Romo got serious with Jessica Simpson, the athlete had eyes for another blonde beauty. In 2007, he and country star Carrie Underwood were an item, but the couple couldn't make their relationship work and broke up in October of the same year, per Us Weekly.
Talking about their split, Underwood revealed to Entertainment Weekly, "Point blank, he is about football. I don't know if it's that I'm not quite his type or whatever, but I don't think he's at the point in his life where he would be willing to sacrifice football. He hated so much that people thought he was paying more attention to me and that was causing him to not do well." 
A year after her split with Romo, the "American Idol" winner began dating professional hockey player Mike Fisher and their love has withstood the test of time. The couple tied the knot in July 2010 and welcomed two children together. After a decade of marriage, the couple shared in their docuseries "Mike and Carrie: God and Country" that they credit their faith for their successful relationship. "We learn from each other and have spirited discussions about things that we disagree on, but at the end of the day, we love each other very much," Underwood shared.
Jessica Simpson struck up a romance with the former QB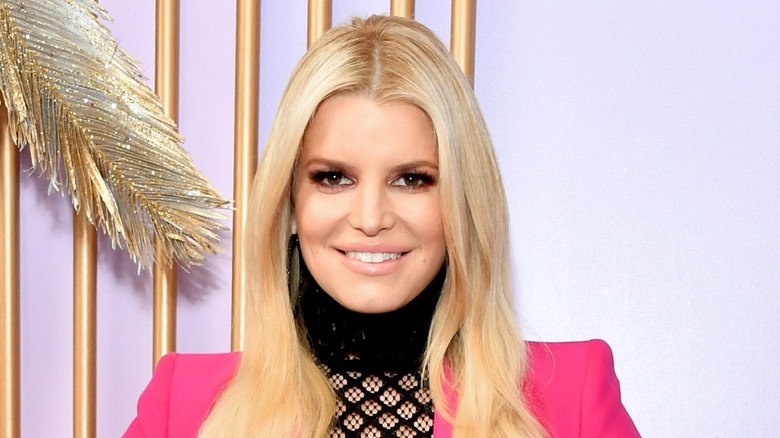 Amy Sussman/Getty Images
In 2007, Jessica Simpson was making headlines for her romance with former Dallas Cowboys quarterback Tony Romo. The duo were together for two years until it was later revealed in her memoir "Open Book" that the cause for their split was all because of John Mayer.
Simpson dated Mayer in 2006 but their relationship fizzled out. She went on to date Romo, but she recalled how Mayer would continue to try and find himself in her life. She even allowed Romo to view messages that he sent her, stating (via Page Six), "If John texted or emailed, I would hold up my phone and tell Tony immediately. He knew the hold John had over me, and it was like telling your sponsor when you're triggered." Romo became suspicious of Simpson's relationship with Mayer after looking through her phone, and although she did not cheat on the athlete, he ended their romance just before her 29th birthday, per People. 
Simpson and Mayer would have an on-again, off-again relationship until breaking it off for good in 2010. She would go back to dating professional athletes after meeting former NFL player Eric Johnson that same year. The two ended up becoming a match made in heaven with Johnson proposing just after six months of dating. They wed in July 2014 and have welcomed two children. 
Eliza Dushku married a tennis pro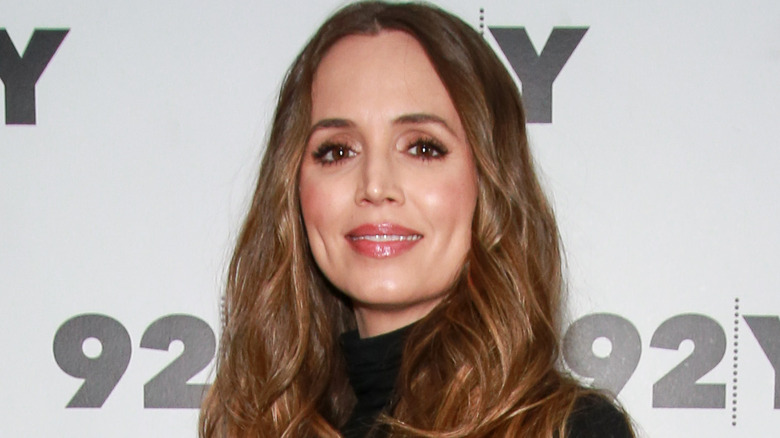 Jason Mendez/Getty Images
Eliza Dushku has managed to have low-key relationships, but the "Buffy the Vampire Slayer" actor certainly has a type. As of this writing, she is married to former professional tennis player and businessman Peter Palandjian, whom she wed in 2018, but before settling down with Palandjian, Dushku was linked to other professional athletes. 
The "Bring It On" actor has dated two other men in the sports world. According to Us Weekly, she previously dated MLB player Brad Penny, and in late 2009, The U.S. Sun reported that she was in a relationship with former NBA player Rick Fox. The two appeared to be going strong, but by 2014, E! News stated that they had called it quits because they could not agree on where to live. Dushku, a Boston native, wanted to return to her roots while she shared with The Boston Globe that Fox was "an LA guy." She added, "I'd rather be a little physically cold here than emotionally cold in LA. I missed my town and I missed my family."
Fans learned that the star wed Palandjian in 2018 when she posted a wedding photo on Instagram. According to People, the couple welcomed a son named Phillip in 2019, and a second boy named Bodan in August 2021. 
Kendall Jenner has a type and that's athletes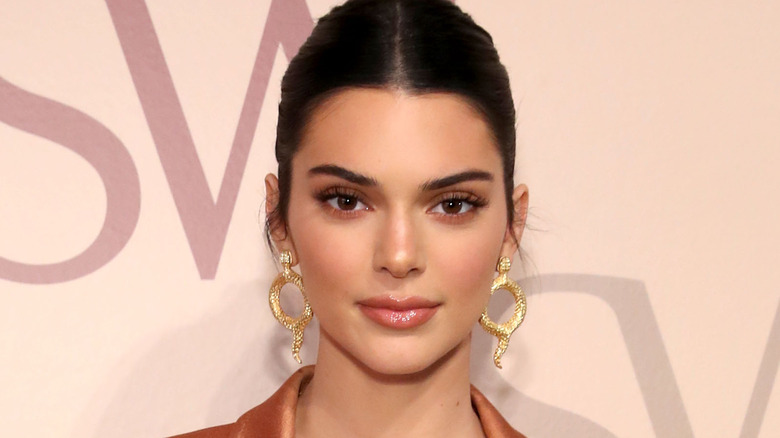 Cindy Ord/Getty Images
Model Kendall Jenner knows she has a type and is not afraid to admit it. During the "Keeping Up With the Kardashians" reunion in June 2021, she acknowledged that she has dated numerous NBA players over the years, telling host Andy Cohen (via E! News), "I'm not ashamed that I have a type, and I'm also a genuine basketball fan … I just feel like it's a private matter and not for anybody else to judge or know."
According to Daily Mail, during the reunion, Jenner also admitted that she was dating Phoenix Suns player Devin Booker, with Us Weekly reporting that they were first spotted together around April 2020. She made their romance Instagram official on Valentine's Day in 2021 after sharing a photo of the two cuddling on a kitchen countertop. As of this writing, they're still together.
However, before making things official with Booker, Jenner had previously dated a few athletes in the NBA. Us Weekly reported that she had once dated Cleveland Cavaliers player Jordan Clarkson in 2016, but their relationship was short-lived. She later went on to date Detroit Pistons player Blake Griffin in September 2017, but their romance ended in March 2018. In May of 2018, she moved on to Brooklyn Nets star Ben Simmons, but their relationship would also end around May 2019. 
Lindsey Vonn made headlines for her romance with Tiger Woods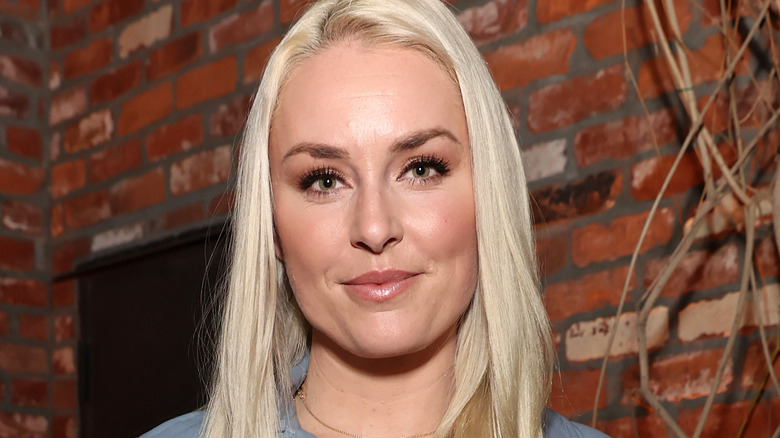 Amy Sussman/Getty Images
Lindsey Vonn has achieved unparalleled success as a professional skier, having won three Olympic medals and maintaining a record of 82 World Cup race wins during her career. She was also known for her marriage to skier Thomas Vonn and the two, who wed in September 2007, appeared to be a perfect fit until it was announced that in 2011 that they were getting divorced, per The New York Times.
Although the skier kept her ex-husband's last name, she went on to date pro golfer Tiger Woods in March 2013, but they ultimately split in May of 2015, per People. Their break-up appeared to be amicable, with Vonn telling CNN, "I loved him and I still love him. I had an amazing three years with him, but sometimes things just don't work out, and unfortunately it didn't work out for us."
According to Life & Style, Vonn briefly dated former Los Angeles Rams assistant coach Kenan Smith in 2016, but ended things a year later. However, she found love again with NHL player P.K. Subban in early 2018 and the duo announced their engagement in August 2019. In December 2020, they announced that they were going their separate ways, with Vonn sharing in a since-deleted Instagram post, "After much consideration we have decided to move forward separately. We will always remain friends and love each other immensely." 
Gisele Bundchen dated other athletes before marrying Tom Brady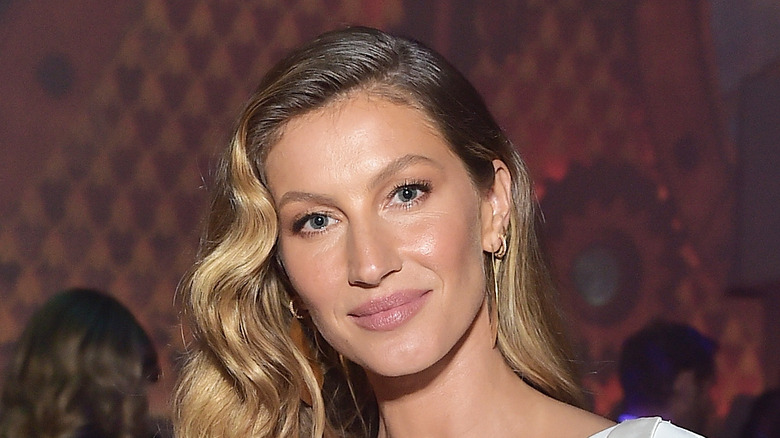 Stefanie Keenan/Getty Images
Model Gisele Bundchen and Tampa Bay Buccaneers quarterback Tom Brady are certainly couple goals, but he wasn't the first athlete she's ever been with. The Brazilian beauty has also dated a professional polo player and a champion surfer in her past. 
According to PopSugar, in 2002, Bundchen was reportedly dating Rico Mansur, a polo player, DJ, and restaurateur, who also hails from Brazil. There's no word on when the two ended their relationship, but between that time, Bundchen was in an on-again, off-again relationship with Leonardo DiCaprio, which officially ended in 2005. That same year, the site reported that she began seeing professional surfer Kelly Slater, but their relationship would also be brief.
Of course, everyone knows that this top model has been married to Brady since 2009, with the couple sharing three children together. His eldest son, Jack, is from a previous relationship with Bridget Moynahan. Celebrating their 13th wedding anniversary in 2022, Brady shared a touching tribute on Instagram, "13 years ago, we both said 'I do' … and you have been the best thing that ever happened to my life. I love you more now than I ever could have imagined. You are the best mother and wife and supporter in the world and I am blessed to call you my wife. Te amo muito meu amor, happy anniversary." 
Shailene Woodley was in two serious relationships with sports stars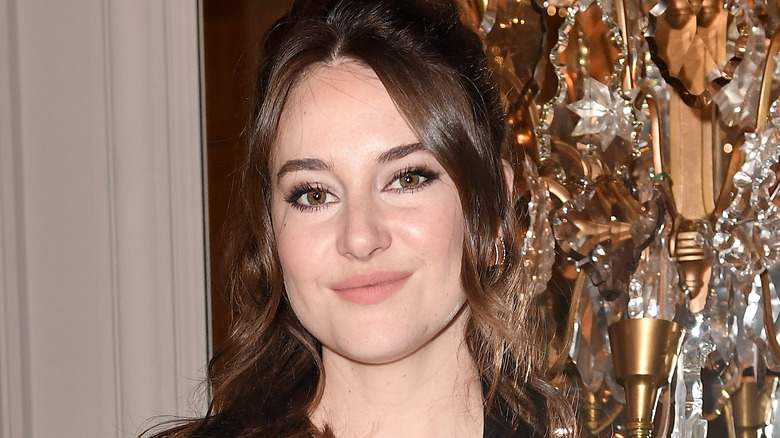 Jacopo Raule/Getty Images
Unlike most Hollywood stars, actor Shailene Woodley has managed to keep her love life out of the public eye. However, her most serious relationships have been with professional athletes, with both romances almost resulting in a walk down the aisle. 
According to Us Weekly, the "Divergent" star dated rugby player Ben Volavola in 2017, but in April 2020, things were over between the couple with Woodley telling Bustle, "I was in a relationship with someone and we were very much on the road to marriage and children. I realized I was still at an age where I wasn't able to fully commit. I couldn't be available to him in the way I wanted to be. I didn't fully love myself."
In February 2021, Us Weekly confirmed that Woodley was dating Green Bay Packers quarterback Aaron Rodgers, and in a matter of three days, the star-athlete let the cat out of the bag that they were engaged while speaking at the NFL Honors awards, per E! News. That same month, Woodley confirmed the news while on "The Tonight Show Starring Jimmy Fallon," sharing, "I never thought I'd be engaged to somebody who threw balls for a living." The pair had not set a wedding date with the actor telling Entertainment Tonight in July 2021 that "there's no rush," but by April 2022, it was reportedly over for this duo after first splitting in February and trying to give their romance a second chance, per People. 
Elisha Cuthbert fell for a couple of hockey players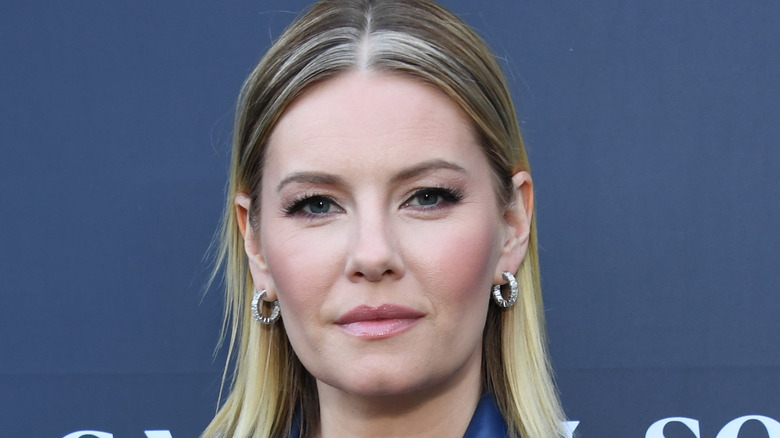 Jon Kopaloff/Getty Images
Actor Elisha Cuthbert has been happily married to retired professional hockey player Dion Phaneuf since 2013, but when the two began dating back in 2008, "The Ranch" actor's ex, Sean Avery, who also happened to play professional hockey, had a few, not-so-nice things to say about the star. 
According to OK! magazine, Cuthbert and the former Dallas Stars athlete were together for nearly two years before splitting in 2007. A year later, the actor began dating Calgary Flames player Phaneuf, and it didn't sit well with Avery. Yahoo! News reported that at a press conference before his team was about to play against Phaneuf, he stated, "I'm really happy to be back in Calgary; I love Canada. I just want to comment on how it's become a common thing in the NHL for guys to fall in love with my sloppy seconds." Not only was his comment out of line, Avery was let go from the Dallas Stars and he later apologized, per People. 
In 2009, Cuthbert reflected on his comments to Women's Health and shared, "He was just another person who was in my life under false pretenses. He wanted the attention of dating an actress." Speaking about Phaneuf, she admitted, "It's the first real, healthy relationship of my life." 
post comes from: https://www.google.com/alerts/feeds/06826723516548187620/10747720445221330788

Post was first posted at: https://www.google.com/url?rct=j&sa=t&url=https://www.nickiswift.com/903030/celebrities-who-love-dating-professional-athletes/&ct=ga&cd=CAIyHDA1OTI4ZmFhZTEzZjQwNjU6Y29tOmVuOlVTOlI&usg=AOvVaw3mUsi7-U4_x3nJUlHDZ2CR