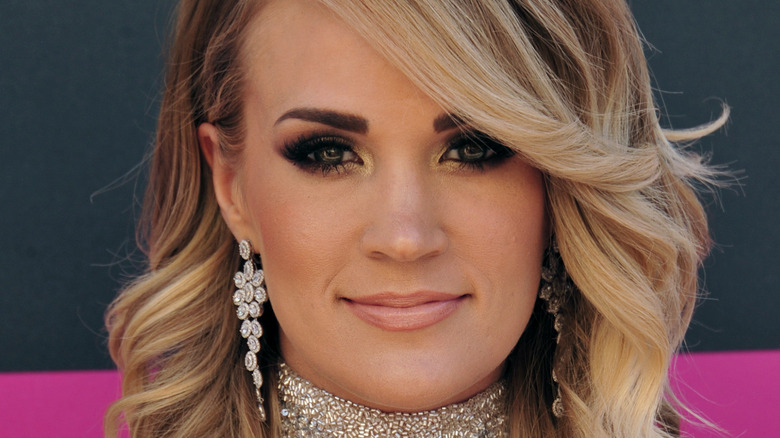 Shutterstock
For most of us, if a closet can hold our clothes, maybe a vacuum, and a box or two of old greeting cards and Beanie Babies that can't fit under the bed, it's good enough. However, there are some stars who opt to shoot for the sky when it comes to creating their closet spaces.
Take Brooklyn Decker's closet, for example. It's so massive that the supermodel invented an app to help keep everything in order. (Eat your heart out, Cher Horowitz.) "We thought the big aha! moment would come when you saw your wardrobe," she explained to CBS News. "To be able to think 'oh my goodness I purchased this 10 years ago, I haven't seen it in years I forgot it was sitting in my closet.'"
For other celebrities, crystal chandeliers aren't saved for the dining room. They can be seen in walk-in closets alongside marble flooring, sky-high shelves, and lots of designer duds. The way their incredible wardrobes are organized is something you've got to see to believe. Here are just a few of the countless celebrities who have the most incredible closets.
Khloé Kardashian's exercise clothes get their own closet
To get the revenge body she's always wanted, Khloé Kardashian has an inspirational place she turns to that's not her home gym. It's her fitness closet that's filled with everything from an entire rack of black leggings to tennis shoes in every color imaginable. "Most people probably don't have a fitness closet," she acknowledged on her YouTube channel. "But you know what? I don't have a husband, so I have an extra closet!"
For anyone who knows of this Kardashian's infamous cookie jars, it shouldn't come as a surprise that everything is extremely organized in her 150 square-foot fitness closet, too. Each item is beautifully displayed on a crisp white shelf to bring attention to her incredibly impressive collection of workout wear.
The entire idea was imagined by LA Closet Design, who even gave her light up glass drawers to display her wristbands and hair ties. "These items get lost and disorganized in drawers, so I wanted to make sure they were beautifully displayed," designer Lisa Adams explained to Self. What's more, there's a mini fridge full of Fiji water. They really thought of everything, huh?
Though this Kardashian has multiple closets in her home — one that's even dedicated solely to her blonde hair extensions — her fitness closet has seemed to workout best. "It's my favorite closet," she gushed. "I genuinely show it off to all of my friends when they are over."
DJ Khaled's shoe closet is huge, and all his footwear still doesn't fit in there
As soon as you enter DJ Khaled's walk-in closet, "you see the energy in this room," he told Complex during an exclusive tour of the space. "You see the greatness. You see the pride. You see the passion." In one specific room, you specifically see his passion for footwear.
All of his shoes are located in a closet of their own. From floor to ceiling, each sneaker is on full display. In fact, the shelves reach so high that DJ Khaled has to use a ladder to access the very top. In 2015, he told Billboard that he has a whopping 10,000 pairs of shoes — but the space is still only big enough to hold around 500 of them, according to MensXP. It's a lot to keep track of, but DJ Khaled says he remembers the exact moment that he wore every pair. "Each of them has a story," he shared in the Complex video.
There's a giant thing in the middle of the room that looks like something you'd sit on at a Macy's shoe department to try on sandals. Turns out, it's a box full of sneakers. At the end of the video, DJ Khaled showed off yet another room that's up to its eyeballs in — you guessed it — even more shoes. We the best shoes-ic.
Heather Dubrow doesn't ever have to leave her closet
"The Real Housewives of Orange County" star Heather Dubrow has a closet so massive, she spends a whole lot of time there. "It's a place I like to hang out," she said on her YouTube channel. In fact, she even does a weekly talk show online from one of the armchairs in her clothes cave.
From the glitter carpet to the crystal chandelier, the 400-square-foot space is something most people could only dream of. There are hundreds of shoes, scarves, and jeans alone. The entire room is wall to wall glass cases for all of her fashionable items to be on full display. "I like everything behind glass so that way it doesn't get dusty," Dubrow explained to ET. Hey, it probably saves her on dry cleaning bills. Or at the very least, lint roller bills. 
There are loads of reasons why Dubrow never even has to leave her closet, either. Though there's not a bathroom in there, she shared a glimpse of her champagne doorbell — which rings down to the kitchen — with Insider. Yet, aside from this exclusive look, it seems she won't be sharing the space with anyone else anytime soon. "This is the one room in my house that's mine," she explained on an episode of Heather's Closet. "I have padlock deadbolts on the door. No one has the combination" — except for the person serving Dubrow her champagne, that is.
Wash out for Carrie Underwood's walk-in closet
Country star Carrie Underwood has nothing short of an amazing closet. In fact, there are so many shelves of clothes in it that she has to use a ladder to make it to the top, like she's Belle trying to find a book in the Beast's library. Fans first got a glimpse of the whole closet ladder situation when she posted a swimsuit selfie on Instagram in 2020. And while the ladder's interesting and all, there's an even more stunning feature. "Love the [suit] but the real winner in this photo is her washer and dryer in her closet," one fan wrote (via House Beautiful).
Surprising as it may be, famous person Carrie Underwood does her own laundry. Set in the middle of her walk-in closet, she conveniently has her washer dryer duo built into an island. Apparently, even inside of her own household, the country star is known for doing a whole lot of laundry. In 2020, Underwood shared on Instagram that her four-year-old son was under the impression she washed clothes for a living. "How one little person has so much laundry I don't know," Underwood told People. Parents everywhere are surely thinking the exact same thing.
Mariah Carey's closet is a sweet, sweet fantasy
It only makes sense that Mariah Carey's closet is ultra glamorous. "I don't think I did it initially," she told Vogue. "But there probably is a sense of drama and a sense of grandeur." The entire 12,000-square-foot space resembles a dressing room with different halls and a full-length mirror covering one of the walls. The bleached wooden floors contain gold leaf stars, and fresh flowers are always front and center in the space. To keep all of her accessories in order, the closet is even climate-controlled, according to InStyle.
In addition to Carey's extensive clothing collection, she also is an avid collector of all things Marilyn Monroe. She keeps a lot of it in her closet, too. Overall, her closet is worth millions of dollars, but Carey hasn't kept count. "It doesn't matter how expensive it is," she said during her Vogue tour. "If you like it and that makes you feel good and makes you feel pretty and however you want to feel, and that's how it is." Spoken in true Mariah Carey fashion.
Snooki's closet is quite the situation
She's one of the world's most recognizable reality TV stars, and you better believe Nicole "Snooki" Polizzi has the walk-in closet to prove it. It looks as though she should be adding interior design to her list of achievements, too? "I designed this closet," she explained to Life & Style in 2015 (via Extra). 
A few years after she took Life & Style on a tour, Snooki shared on Instagram that her closet got a bit of an overhaul — and she couldn't have been happier with the results. "I am SCREAMING!" she wrote. "Thank you sooo much for helping this mawma nest & organize my entire closet @theprojectneat @mdesign_shop
The entire area has a very similar vibe to her clothing store The Snooki Shop, and it may be just as massive. The space is bigger than most people's bedrooms. From the black and white checkered floors to the chandeliers that overlook her outfits, the space truly screams Snooki — and she's not the only one who likes to spend time in there. "[My daughter] will come over here, pull the shorts down, and there's, like, literally an avalanche of all my clothes coming off the shelf because Giovanna likes to throw them," she said on her YouTube channel. Yet, even amongst all the chaos, her closet still somehow always looks amazing.
Tan France makes the best use of his attic space
If you're looking for a way to make use of your attic, turn to Tan France. He hired interior designer Alice Lane to create his own attic into the closet of his dreams — and it's amazing. "I didn't want a Kardashian or fairy princess closet," France told Architectural Digest. "I wanted it to feel like my closet, like a man's closet."
The entire design started with green striped wallpaper, which covers all of the walls. Dark wooden shelving was then custom created, and drawers were built just below that to hold folded up items. There isn't one square inch of space that isn't utilized. "I don't care how pretty it looks, if I can't store things it doesn't make sense," he explained.
However, there's more to France's walk-in closet than just organization. At the end of the long hall, a small window bench made out of green velvet was made especially for him. "I can work from here and see my beautiful closet," he gushed on his YouTube channel. It sure gives "work from home" a whole new meaning. And while his walk-in closet is total perfection, there's still something missing: "Nothing's on these shelves yet." Well, it looks like he needs to go shopping. What a problem to have.
Kylie Jenner's closet is pure purse perfection
In true Kardashian family fashion, Kylie Jenner has more than one closet. In fact, she has one dedicated to designer handbags that's way bigger than most people's single clothing space. According to Daily Mail, her entire collection in that closet alone is worth an estimated $1 million.
The closet was specifically designed with each purse in mind. The clean white shelves sit in front of a backdrop of mirrors to add a bit of pizzazz and help show the young billionaire her "options" as she decides which purse to pair with her daily outfit. Each shelf is devoted to a different designer, because how else would you organize your collection of designer handbags? ("My favorite row would definitely have to be the Hermès row," she shared on her YouTube channel in 2019.) The lighting is perfect, of course, too, with a fancy chandelier front and center.
Though she has a purse to match practically every outfit imaginable, the star of the show is her matte white crocodile skin Hermès bag, which, according to Fashionphile, retails for around $235,000. "If my house is on fire, I would take this one out of all of them," Jenner admitted on her YouTube channel. "If I could only choose one."
Lisa Vanderpump's closet has a whole lot of pink
To anyone who might be thinking about joining the cast of "The Real Housewives of Beverly Hills," series alum Lisa Vanderpump has an invaluable piece of advice that should be taken to heart. "You have to have a huge wardrobe, to be honest, working on the show," she said in a closet tour for Bravo.
Obviously, a lot of Vanderpump's closet is pink, and the crystal chandeliers and diamond dressing room mirror only add to the ambience. "I really am a typical girl. I love being a girl," she said in the video. "I love dressing up. I love jewelry." And she has a whole lot of it on display on the two islands in the center of her closet.
Yet, what truly makes Vanderpump's closet so special isn't the fact that most of her clothing is embroidered with her own initials. It's that the space was custom made by the reality star herself. "I've been really fortunate enough to be able to design my bedroom and dressing room and this wonderful bathroom," she shared. "I really do feel blessed."
Rachel Zoe continues to reorganize her incredible closet
For a fashion designer, you'd imagine Rachel Zoe having the most out-of-this-world closet imaginable. However, even she needed some help when it came to making it amazing as it is. "My closet is kind of one of my happy places, but I've been traveling so much for the last few months that it's gotten really out of hand," she explained in an episode of "Real Life with Rachel Zoe," so she enlisted the help of The Home Edit's Clea Shearer and Joanna Teplin.
The two professional organizers — and stars of the Netflix series "Get Organized with The Home Edit" — gave Zoe a completely new closet. From the custom shoe shelf to show off each pair to the clear purse organizers to keep everything in order, everything was specifically made for Zoe herself. "They made sense of the chaos," she explained. The team even added a center island to help with organization, something that every celebrity closet seems to have.
The organizational duo has helped her organize the same walk-in closet quite a few times, and it sounds like they'll be returning again very soon. "I'm going to have them do every single closet," Zoe shared.
JoJo Siwa's closet is exactly what you'd expect
During quarantine, YouTube sensation JoJo Siwa was stuck at home with nothing to do but think up big ideas. She had an extra room in her house that was in need of updating, so she decided to turn it into a walk-in closet. From the sequin wall to the neon lights, the closet is exactly what you'd expect from the young star. "Everything's so bright and sparkly," she explained on her YouTube channel. "I feel like it's impossible to not be happy when you're in this room." Invite us over?
The teenager has a wall full of all things Gucci, an area for her own merchandise, and even a snow cone station that was gifted to her by Nickelodeon — so she obviously spends a whole lot of time there. Since the space was originally supposed to be an extra room in her home, it even has its own small bathroom and closet attached. Yet, that small closet doesn't even compare to the large sparkly space it's connected to. "I did all of this all by myself," Siwa gushed. However, the large cutout of herself hanging on the wall was something she had to have her parents help her out with. "My dad didn't trust me to do that," she admitted.
Paris Hilton's huge closet channels old Hollywood
Paris Hilton's closet at home is super glam and anything but boring. "When I was designing this space with my interior designer, I wanted it to be old Hollywood," she explained to Allure in 2019. "So I love all the mirrors and the chandeliers and the whole black and white vibe."
Before entering the closet, Hilton has a dressing room where she displays all of her own product lines. Everything from perfumes to hairsprays are at an arm's reach, so when she's done getting all glammed up, she heads into the walk-in. A center island — made completely out of mirrors — is where she lays out all of her jewelry and accessories. Even every wall is covered with mirrors so she can always catch a glimpse of her good side.
While her walk-in closet is impressive — and massive — there's one specific item you won't see on display in there. "I actually collect tiaras. I have, like, over a hundred of them," she said. "They're in the tiara closet."
Victoria Beckham's walk-in closet resembles a boutique
When you walk into fashionista Victoria's Beckham's closet, you may feel as though you've walked into a posh boutique instead. Everything the Spice Girl owns is neatly tucked away behind massive wooden doors, and there's a small, luxurious sitting area with velvet furniture and two elaborate chandeliers hanging overhead. The vibe of her walk-in closet definitely makes you believe she's a successful boutique owner — as if you didn't already know before.
Much like her own store in London, her closet resembles a similar style — simplicity. "I'd like to think that it doesn't look too contrived or overly complicated," Beckham told Vogue. "And that it's honest." Honestly amazing. This fashion icon has shown off her special closet space quite a few times on Instagram, and every time, we've been blown away. It makes us want to create our own closet to hang out in, too.
Jenna Dewan decided to get her closet organized
Organizing clothes has never been easy for Jenna Dewan. "I also think I have about five too many of everything," she admitted on her YouTube channel in 2018. As she once told People, she regularly clears stuff out of her closet ("I'm a good giver-away-er," she said) only to bring in a whole bunch of new stuff. In 2020, she turned to professional organizing company Life in Jeneral to completely transform her walk-in closet.
Now all of Dewan's shoes are perfectly stacked in glass cases with spotlights that make it look as though they're on display in a museum. Hats are hung perfectly above that, with shirts underneath, and pants tucked away on the bottom rack. "I've never been a very organized person so this is a DREAM," she wrote on Instagram. It makes choosing all of her outfits way too easy.
While it may look perfect now, there is just one downfall to having a perfectly organized closet. With a mess, "you forget what you have and then you re-find it," she explained in the aforementioned 2018 YouTube clip. "And you rewear it, so maybe I'm going to find a gem." Not anymore, Dewan.
post comes from: https://www.google.com/alerts/feeds/06826723516548187620/10747720445221330788

Post was first posted at: https://www.google.com/url?rct=j&sa=t&url=https://www.nickiswift.com/474354/celebrities-who-have-the-most-incredible-closets/&ct=ga&cd=CAIyHDA1OTI4ZmFhZTEzZjQwNjU6Y29tOmVuOlVTOlI&usg=AFQjCNERyDuh46WegYP6Cg6NBDwoDoSe5A